Selling your Home
June 7, 2018
What to expect when you book a property valuation
So, you've finally confirmed you want to move house and you are excitedly scrolling through pages and pages on Rightmove looking for your dream home. What next?
Most people choose to arrange a valuation of their property by an estate agent to find out how much their home could sell for. Price is, of course, an important factor when it comes to understanding how much you can afford for a new home. However, a valuation visit shouldn't just be about how much money you can get for your home; it is also an opportunity for you to find out about the service an estate agent will provide and for you to ask any questions you may have about selling your home.
Booking a valuation visit
You may shortlist a number of estate agents to contact for a valuation. If you do, we recommend selecting estate agents which have experience in selling homes in your area. They will have local knowledge and a better understanding of the housing market, meaning their valuation should be more accurate. You can do a quick check by looking at the properties the estate agent currently has for sale and properties sold subject to contract (typically written as 'Sold STC') on their website and portals.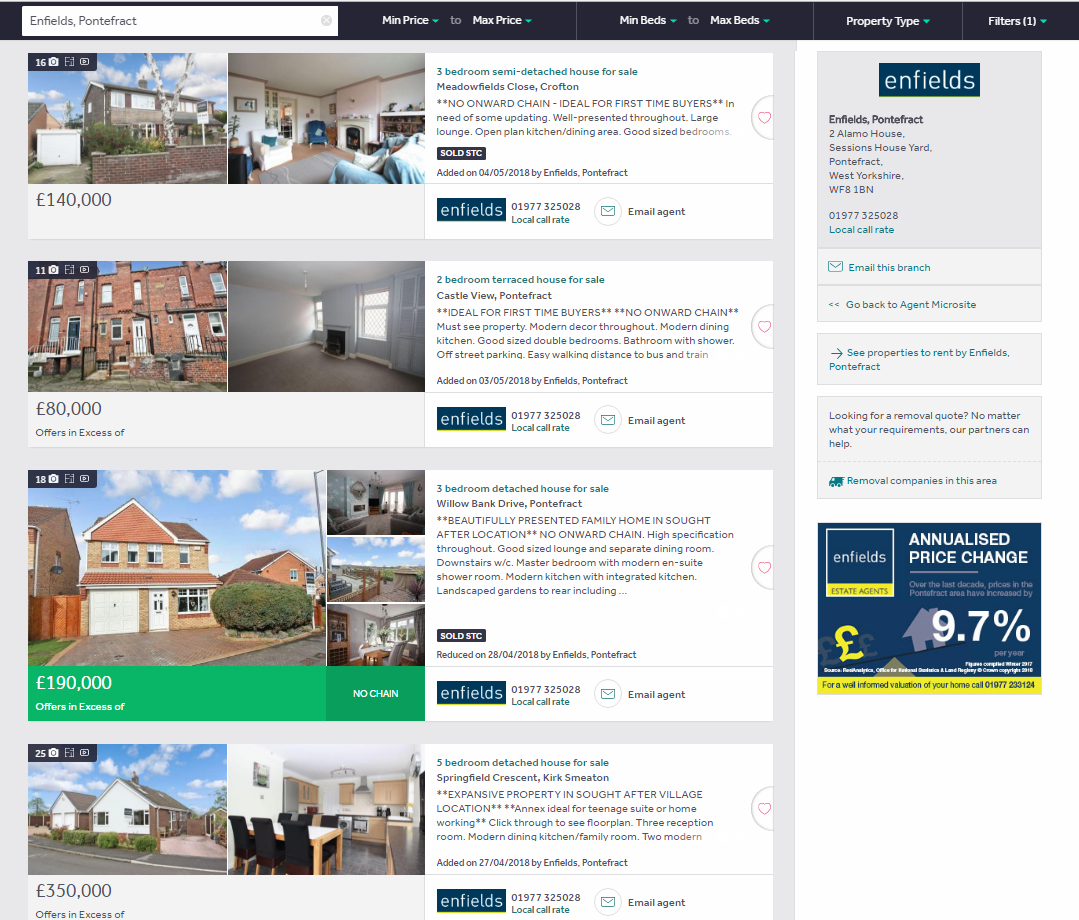 This is a screenshot of our listings on Rightmove showing properties we have for sale and those which are sold subject to contract.
It's also wise to read genuine customer reviews. You can see all of our Google Reviews here.
At Enfields Pontefract, we have a list of buyers who have asked us to inform them when a suitable property is put on the market. As soon as a vendor gives us the go ahead to market their property, we contact every relevant buyer on our database by phone to let them know about it. This is a key part of our sales strategy which helps us to sell homes quickly because we are speaking directly with those who are ready to buy and we already understand their needs and buying position.
Visit times vary between estate agents, meaning some may only be able to conduct a valuation of your property on weekdays. Others, like us, are more flexible and can visit you on evenings or weekends. Before calling an estate agent, have a few dates and times in mind to give to them.
When you call an estate agent, you will likely be asked a few questions about your current situation, such as when you are looking to move and whether you have put an offer in on a new property. Your answers will help the estate agent to understand your needs and make sure they come equipped with the right information when they visit your property.
We will tell you on the phone which valuer from our team will conduct the valuation of your property. It is likely to be either Andrew Baxter or Chris Heaps, both of whom have solid experience in the housing market and are friendly and approachable. You can see pictures of all of our team, including Andrew and Chris, on the Enfields Pontefract website here. We also share videos on our Facebook Page giving tips to sellers and letters. You may like to watch the videos to get an idea of what we are like in person. You can see them here.
During your valuation visit
If you are expecting to be faced with a pushy salesperson at your door, you are not alone. According to one survey, 48% of people said aggressive sales tactics put them off. It is quite likely that some estate agents you encounter will fit this stereotype, but we promise we won't be one of them! Our whole team are given high-quality training to ensure our customers get the professional service they expect, without the slimy sales speech. Do keep in mind, though, that every estate agent will speak to you about their services and pitch reasons to choose them to sell your property. This is the information you need to determine which estate agent to pick, so make sure you ask questions and explain any reservations you have. A good estate agent will ask you several questions and listen to you very carefully.
When you have a valuation from Enfields Pontefract, we send you a text reminder on the morning of your scheduled visit. On arrival, the first thing we will do is look around your property. Every estate agent should ask to view each room and exterior of your property to help with their valuation. We have been told by one of our customers that they had been visited by an estate agent who didn't bother to view any part of the property before leaving!
Next, we will discuss your needs and answer those all-important questions you have. We will then take you through the services we offer and discuss our fees and terms. Pricing structures vary between estate agents; some offer fixed fees, some charge a percentage of the final sale price and others may have a completely unique way of calculating their fee. The same goes for terms, which are specific to each estate agency.
You may find the value you are given for your property varies slightly between estate agents. We strongly advise against choosing an estate agent based only on the valuation they give to you. Sadly, some estate agents are known for inflating their valuations just to win your business with the intention of lowering the asking price after a few weeks of being on the market.


Our valuations are based on a combination of experience and expert knowledge. We consider:

> The layout, structure, access, features and assets of your property.
> The location of your property and the amenities in the area, such as schools, shops and transport links
> The potential of your property such as the possibility to extend the building or modify the layout.
> Knowledge and experience of your local area.
> Knowledge of the current market conditions for your area, and the whole of the UK, taking into consideration the sold prices, asking prices, new instructions, price reductions and the lending market.
> Sold prices of similar properties in your area.
> Price comparable report from Rightmove.
The length of a valuation visit will vary, especially if you have lots of questions, but expect to be with the representative for around an hour. We advise spacing each visit apart so you have time to digest everything from each visit. It can be a lot of information to absorb and you may want to discuss your thoughts and feelings with your spouse, family or friends before seeing the next estate agent.
After your valuation visit
If you have seen more than one estate agent, you will probably have an idea of which one you want to go with just from the interaction you had with them and what they told you during the visit. Getting a 'good feeling' about the valuer and the estate agent they represent is important. After all, you will be dealing with them quite a bit throughout the sale of your home!
Before coming to a final decision, go through the package, service, and fee and terms information again and pay special attention to any small print. This second look may create new questions or queries you need answering. You are welcome to contact us with your questions by calling the office on 01977 233124 or emailing us at sales-pontefract@enfields.co.uk. The estate agents you saw will probably call in the days following their visits, so you can ask your questions then if you want to. They will also ask if you have made a decision about whether you wish to instruct them to sell your home.
If you choose Enfields Pontefract to sell your home, we will book a time to take photos and measure the rooms in your property. We know most people want to sell their home as quickly as possible, so we will start marketing your property as soon as you give us the go ahead. We contact all suitable people in our database who are waiting to buy and publish your property on Rightmove, Prime Location, Zoopla and the Enfields Pontefract website with the information we already have. We often secure visits before a house is fully marketed.
We hope this helps you to understand what to expect when you book a property valuation and our tips and advice mean you make the most of each visit to ultimately choose the right estate agent to sell your home.